Jesus Davis is a looter living with the other Desert Raiders, which are Billy Taggart and Jacob de Vere, in a small outpost on a large open area of the Sonaran Desert, very close to a neighboring community, Fort Kohai.
During the quest Duck Hunt, Sarah Slaughter and a member of the Survivalists decide to put a stop to the looting, so they go to the Desert Raiders' base, and the group is annihilated. Depending on the duo's actions, Jesus is either killed in the attack, or he is forcibly recruited to the Survivalists.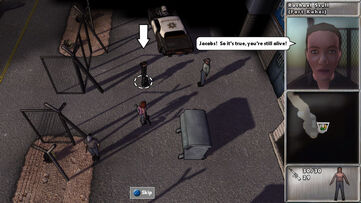 Ad blocker interference detected!
Wikia is a free-to-use site that makes money from advertising. We have a modified experience for viewers using ad blockers

Wikia is not accessible if you've made further modifications. Remove the custom ad blocker rule(s) and the page will load as expected.